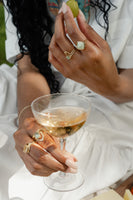 CHEERS, THE COMO COLLECTION IS HERE!
Our largest collection to date, The Como Collection is inspired by the refined, laid-back aesthetic and vibrant colors of the Lake Como region of Italy.
Just in time for Summer, the collection features responsibly sourced gemstones and pearls in coral pinks, tranquil teals, and verdant greens.
Shop Como Now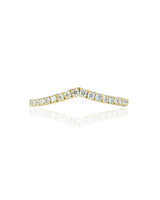 THE DIAMOND VOLARE
If we are to create any sort of change in the jewelry industry, it is important that we divert revenue streams into the initiatives that we feel are aiming to become more responsible. This was not a concept that I knew of when I first started making jewelry. It was too easy to see diamonds as a red flag and decide that I wasn't going to work with them. But thanks to those making their life's work around educating jewelers and the public about responsible practices, I learned that this avoidance is not the best way forward.

It is this thinking that has lead me to work with Ocean Diamonds. Diamonds found on the ocean floor off the coast of South Africa were first carried up from deep within the earth by a kimberlite pipe and then traveled down powerful river currents to the seabed over the course of billions of years. Only the strongest diamonds survive this journey to be handpicked by professional divers, with as little disturbance to the marine life as possible. Once they are picked as rough, they are cut right there in South Africa, and the only other stop between SA and me is in England, where they are inspected and shipped. It is the most direct, traceable, and least harmful diamond I have come across at this point in my research.
Shop Now
Shop The Foundation Collection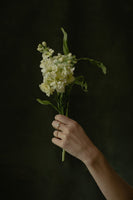 OUR PROCESS
Palm Sunday pieces are made in house, by hand.  Our custom fabricated rings are made from scratch using gold and carefully selected stones.  
Preserving the craft of the goldsmith is a priority of ours.
There are designs that require that a ring be "cast" and not fabricated, in which case we will hand-carve a wax model of the design and it will be carefully cast in an off-site facility. 
OUR SOURCES
We take stone sourcing seriously. Since 2020, we've only been buying stones from a select group of dealers, all of whom are committed to ethics and traceability in their supply chain. Visit them to learn more: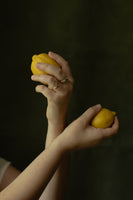 news from the palm sunday times